Tables d'Hôtes
We source local seasonal produce which is reflected in the menu.  Many of the vegetables and soft fruits are produced in our own potager, providing the very freshest of food.
At Chateauret we are building a reputation for our excellent meals, made from seasonal fresh local procuce and our own freshly grown vegetables.
For starters, fresh simple salads that show off our regional products are dressed with homemade vinaigrettes. Courgette soup, roasted tomato soup, fresh pea and mint soup all appear on the menu and are all made from homegrown produce where possible – let's face it we are never going to run ot of courgettes in the summer! Goats cheese is sourced from a small producer in St Pardoux, 6km from here and is often served baked on toasted local walnut bread
Main courses reflect the season and the temperature. The style of cooking is French with a British influence, pared down simple but delicious food, with no unneccessary smears and drizzles!
Dessert is Sam's favourite course, and it shows! Hours of fun go into preparing delicious and interesting desserts, which change with the seasons and include, fresh rhubarb & custard iced lollies, Poached Nectarines, Lemon Meringue tarts, Pavolovas with seasonal fruits – rasberris and strawberries in high summer and plum & cinnamon compote in the autumn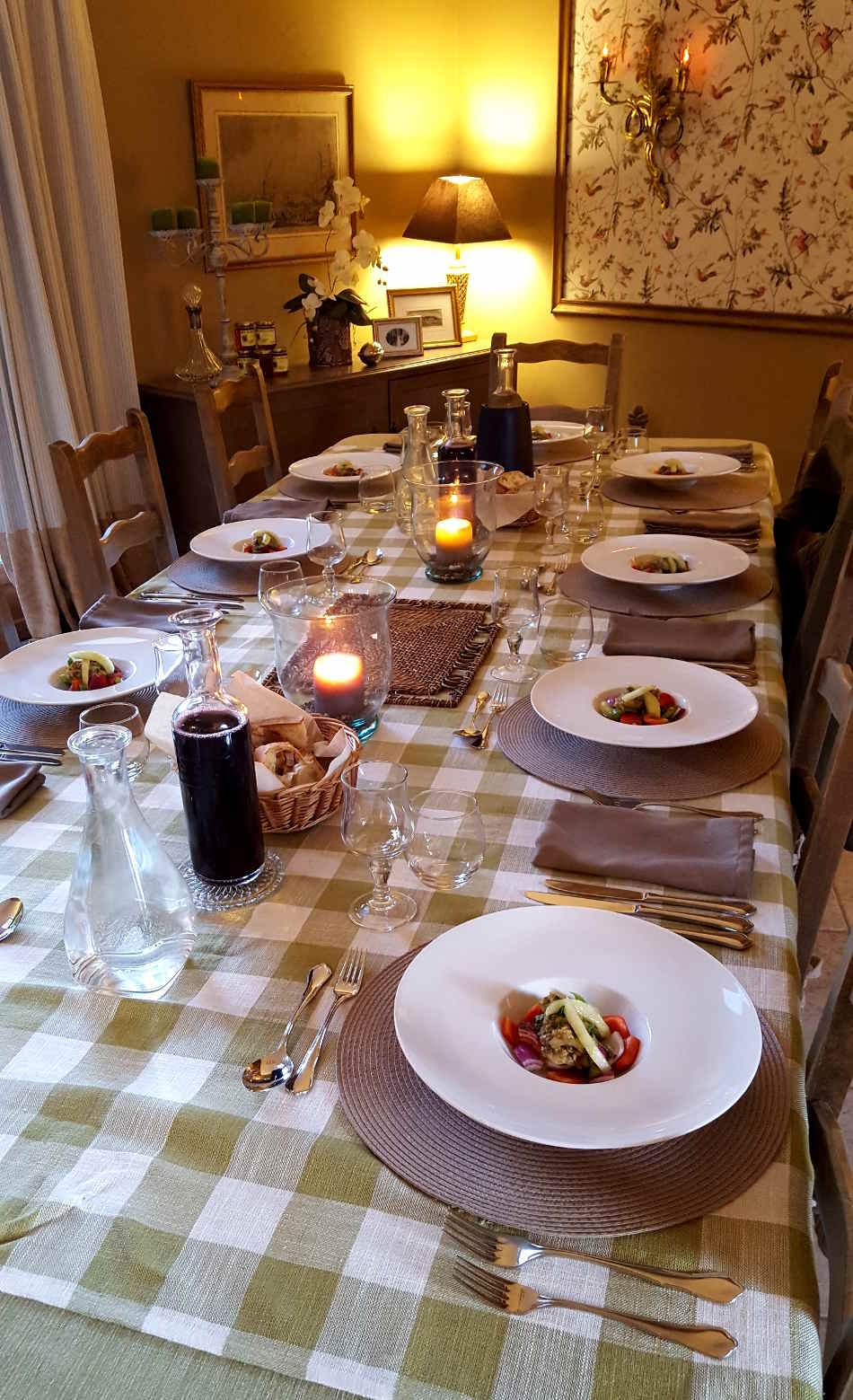 Fresh Ingredient, Tasty Meals
Your day will start with a continental style breakfast, served in our light and airy dining hall. Comprising of delicious french bread collected daily from our local bakery, croissants and a selection of home made jams….
Breakfast also includes: seasonal fresh fruits and homemade compotes a selection of cereals and home made meusli. Local yoghurts and cheeses Porridge and boiled eggs are available on request
A four course evening meal with wine, is available every evening at 20h, following aperetifs served on the terrace or in the salon at 19h30 .
Most meals are very vegetable rich and low fat and everything is prepared from scratch using only the freshest ingredients
We have one night off per week and can recommend a local restaurant
Four Course Evening Meal with wine
Aperetif, Starter, Main, Cheese, Dessert, Coffee
2-6 years old 11€
6-14 years 15€
Food is Fun! We try to serve smaller portions of the adult menu as we believe that children deserve good food too..  Children can eat with their parents, or we can do an earlier sitting (extra charge) so that parents can have a 'night out' without needing babysitters!
We can cater for people with special diets and allergies, including vegetarians and coeliacs.
Please let us know at the time of booking, as menus are planned in advance and cannot be changed at short notice
We are sorry but we do not offer a vegan menu



"Sam goes to great efforts to feed guests restaurant quality food night after night. We have never eaten so well.."

Andrea & Dan, Sheffield


Fantastic hospitality and amazing food."
Lisa & Jim, Wraysbury


Sam is an outstanding cook. Every night for 14 days, she produced Michelin star standard meals."
Geoff, Brisbane


"Sams food is top notch and something to look forward to after a day in the saddle.."

Damian, London