Corrèze, known as France's Green Department, truly is the verdant heart of the country, an area of outstanding natural beauty.  Unspoiled and quiet, Corrèze is a largely undiscovered region of France, situated to the West of the Massif Central. It is the southernmost department of the Limousin Region.  Rolling Hills, forests, streams and lakes, with gorges plunging down to the Vezere and Dordogne Rivers characterize the area.
There are several 'Plus beaux Villages de France' in Correze, including Collonges La Rouge which was the very first of these classified villages. Even the unclassified villages are sleepy and beautiful with their ancient churches and stone houses. 
Correze is a paradise for activity holidays.  Quiet roads are ideal for road cycling and there are extensive off route tracks for mountain biking and walking.  Kayaking and canoeing are very popular on the Vezere and Dordogne Rivers.  Climbing, accrobranch, Paintball, Parascending, Geocaching – the possibilities are endless.

If you are looking for an active holiday you will be spoilt for choice in Corrèze
Cycling - on the Road
At Chateauret we also run 'Correze Cycling Holidays' offering specialist holidays for keen road cyclists. We offer guided routes and also detailed route plans for unaccompanied cyclists with the backup of a crew bus. We have a bike workshop with secure storage. Bike hire is available by the day or week. For more information please visit our dedicated website: www.correzecycling.com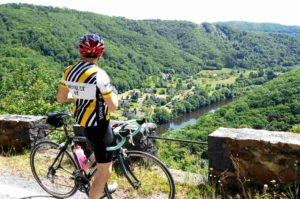 Mountain Biking
For Mountain Biking there is a VTT centre at Chateau de Sédières (approx 15 minutes drive) with 11 planned off road routes from 9km to 100km and mountain bike hire available. Closer to hand for guests with hybrid bikes there are good off road tracks all around our base.  Further afield there is the Lac de Causse at Brive.which has a wide rage of VTT circuits.
www.sedieres.fr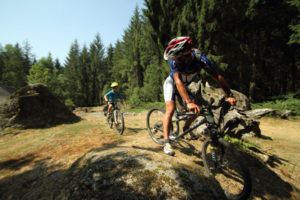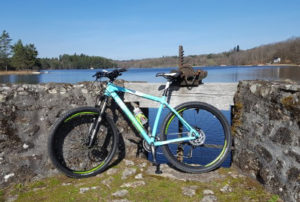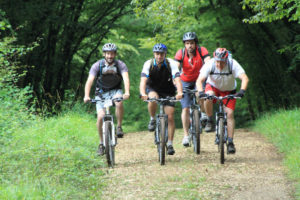 Walking and Hiking
There are a huge range of Walks to suit all levels right from the doorstep.
The Randos de Doustre walking group are based in Espagnac and so we have access to a wide selection of preplanned walks
We are close to the route of the 'Dordogne en Barrages' walking trail which runs from Bort Les Orgues to Argentat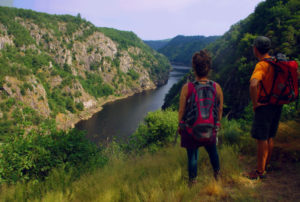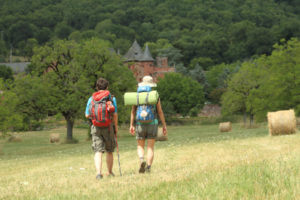 Swimming
In addition to our own swimming pool there are several lakes close by for open water swimming in summer. Within 10 minutes drive we have the Etang Laborde (unsupervised) perfect for triathlon training. 15 to 20 minutes away is the 230 hectare lake at Marcillac la Croisille with supervised beaches and watersports. Slightly further afield (35 minutes drive) there is the lovely Lac de Miele which has diving platforms and a 1950's resort feel. There is a good open air water park, 'Centre Aqua Creatif' with slides and chutes at Argentat (30 minutes drive) which is picturesquely situated on the bank of the Dordogne river.
www.marcillaclacroisille.correze.net
www.argentat.fr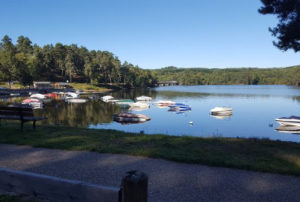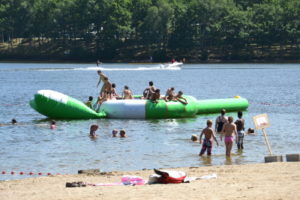 Water Sports
We are 20 minutes from the large Lac de la Valette at Marcillac la Croisille, where the Station Cap Sports Nature offering various water sports including sailing, kayaking, windsurfing and water skiing.
www.station-sports-nature-ventadour.fr
The best kayaking in the area is approximately 30 minutes away at Argentat on the river Dordogne. Here you can go on a Canoe or Kayak safari traveling 26 kilometres down the Dordogne to the picturesque Beaulieu sur Dordogne. Hire & return transfer by bus to Argentat is around 14 euros per person. There are several small rapids on the route and plenty of stopping places with cafes serving drunks and snacks. The trip takes around 5 hours and a return bus trip to Argentat is included in the hire charge of around 13 euros per person.
Kayaking and white water rafting are also available in Tulle (25minutes).
www.copeyre.com
www.correze-eauxvives.com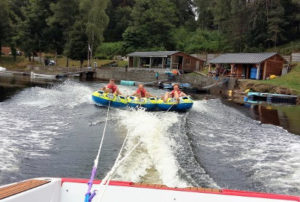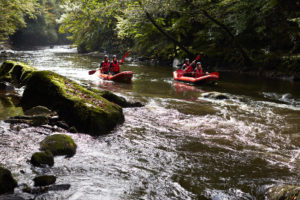 Climbing Accrobranch & Other Outdoor Fun
Yccrobranch or Go Ape – A fun afternoon can be had climbing through the trees on ropes at the Mayadventure centre at Aubazine 20 minutes drive from Chateauret.
Paintball is also available here. Booking is recommended in high season.
www.parc-mayaventure.com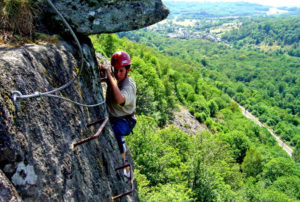 Fishing
In addition to our own small lake with our medium size fish, there are some excellent carp fishing lakes in the area.  10 minutes from us there is the Etang de Laborde where they can organise familiy fishing tournaments for beginners.   At the picturesque Chateau Sédières and the Etang de Ruffaud there is carp fishing for those who want to catch monster size fish.. For these lakes you will have to have a French fishing permit and then pay the local day rate charged by the lake, but there are monster carp to be caught!
http://www.lost-in-france.com/france-travel/fishing/54-fishing-permits
Fabulous scenery, Beautiful Villages – Corrèze is a visitors Paradise
Check out 'Amazing Places' review of this fabulous area
Gimel Les Cascades (15 minutes)
The centre of the village with it's castle ruins, lovely views over the picturesque Montane river valley and 11th Century Church is enough of an attraction. The icing on the cake however are the three stunning waterfalls which cascade down 143 metres to the wooded valley floor.  There is a lovely walk from the village, over the ancient toll bridge, past the ruined castle and down to the falls, where you will find a café bar open all day for drinks and snacks.
Don't miss the beautiful village church with it's lovely display of reliquaries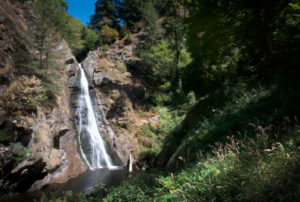 Argentat (25 minutes)
An elegant town on the banks of the Dordogne river with a picturesque quay where the houses are crowned with turrets, gables and pepper pot towers and the Dordogne gabares used to moor to unload their cargos. There is a weekly market in the Summer on Thursdays – every second week out of season.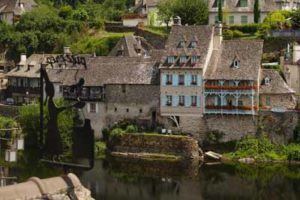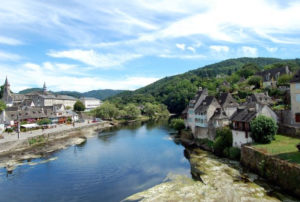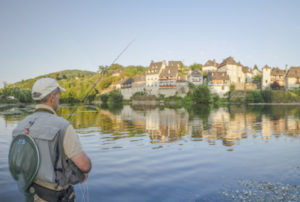 Beaulieu sur Dordogne (40 minutes)
Built on the bank of the Dordogne, Beaulieu is a picturesquely historic town, famous for its Romanesque church and the local industry of Strawberry growing. At the annual strawberry festival in May you can see the worlds largest strawberry tart and eat (and drink) all good things made from Strawberries.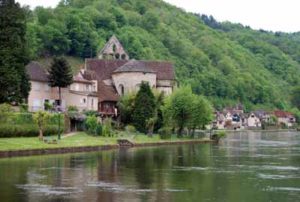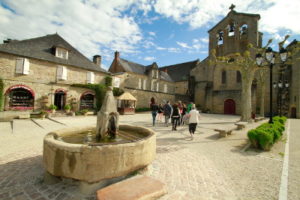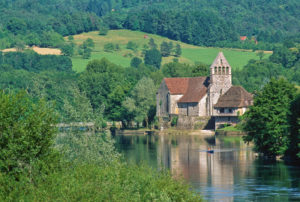 Tulle (25 minutes)
The capital of Corrèze, famous for the production of lace, accordions and armaments, Tulle straddles the banks of the river Correze along a narrow valley. The area around the Cathedral of Notre Dame has shops, cafes and patisseries and is the most historic and picturesque part of the town. The cathedral cloisters and its adjoining museum are worth a visit. The 'Nuits de Nacre' (nights of Mother of Pearl) accordion festival in September showcases the best of modern and traditional music fusion. There is a large market every Wednesday and Saturday morning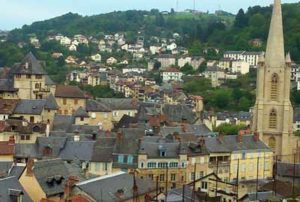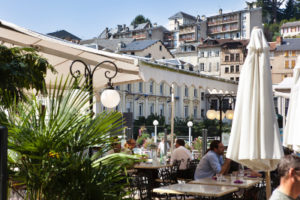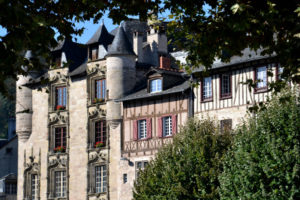 Collonges La Rouge (45 minutes)
Built from the old red sandstone that narrowly crosses the area, Collonges the Red is a completely preserved historic town of stunning buildings and narrow streets. Rated as one of the 'Plus Belle Villages' (most beautiful) of France, it is steeped with atmosphere. A picturesque lunch spot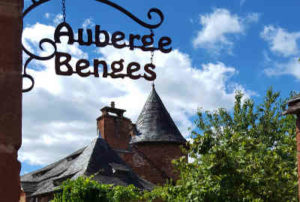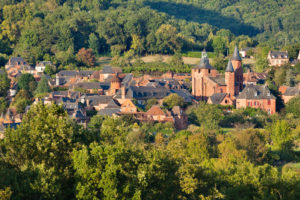 Tours de Merle (45 minutes)
The remains of the Merle fortress stand on a rocky spur surrounded by a meander of the River Maronne. At the time of Henry II Plantagenet this was an important frontier post between the English Duchy of Aquitaine and the earldoms of Toulouse and Auvergne. Now a picturesque ruin, it is a great visit for a spare afternoon.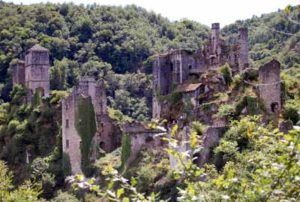 Caves and Prehistoric Sites
Within an hour of Espagnac is the region of the Northern Lot. The geology of the area has led to the formation of massive cave systems, most notably the Grottes de Presque, the Grottes de Lacave and the stunning Gouffre de Padirac (www.gouffre-de-padirac.com) which are approximately 90 minutes drive. The celebrated Lascaux caves are also within easy reach and the new Lascaux 4 visitor centre is amazing.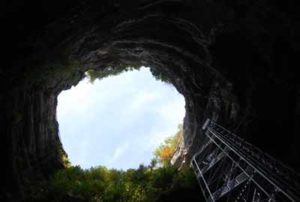 Chateaux, Gardens and Historic Towns
There are many impressive castles in the Corrèze and Northern Lot, including the Château de Castelnau at Bretenoux, the Château de Montal and Château de Hautefort. We can also highly recommend the Château de Murol near Mont Dore, with its exhibitions of sword fighting and jousting.
The very famous (and busy) Rocamadour is within 90 minutes drive and is well worth a visit, particularly out of season. www.monuments-nationaux.fr
One of France's most beautiful gardens the Jardins du Manoir D'Eyrignac is approximately one hour away. Closer are Les Jardins de L'imaginaire at Terrason and Les Jardins de Lostanges near Beaulieu sur Dordogne. If you want a whole day out the hanging gardens at Marqueyssac are truly special
www.marqueyssac.com